There is a LOT of misconception and confusion about what thread count is "best." While many consumers believe "the higher the thread count, the better," this is not necessarily true!
Thread count refers to how many threads are running horizontally (the warp) and vertically (the weft) in one square inch of fabric. To achieve a thread count of higher than 400, super fine threads are twisted together and then woven to create fabric. Over time, with use and laundering, these twisted threads can begin to break apart from each other. The result is thin places in your sheets because the fabric is not woven as tightly as it once was. For this reason, textile experts generally agree that single threads woven together result in better fabrics.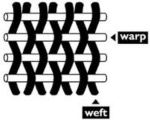 We use single pick, 100% cotton for the all cotton sheets we manufacture for our AB Lifestyles line. The cotton used in our sheets is Pima cotton, (sometimes called Supima) which is grown here in the US. The thread count of our cotton sheets is 300.
We chose this fabric for our 100% cotton sheet sets because it is US grown, and it combines affordability, softness and durability. We have found this cotton produces an extremely nice quality sheet that has a soft, luxurious feel, but is also durable and will hold up to daily use and many, many washings for several years.
HOW you launder your sheets IS an important factor in how long they will last. We recommend washing them separately from other items – especially towels! Read more about proper care of your sheets in our article about laundering at www.ablifestyles.net