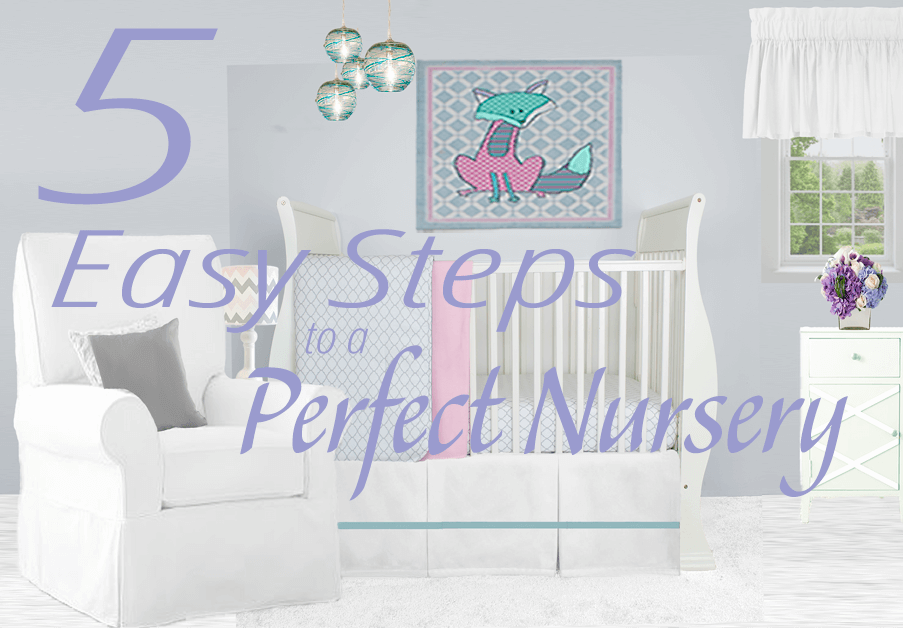 The arrival of a new baby brings all kinds of excitement,
and the opportunity to embark on one of the
most fun decorating projects ever!

The Nursery!
Most new parents fit into one of two camps:
You have hundreds of cute ideas swirling in your head of how to decorate
or you have no idea what to do!
Either way, lets break it down into a few simple steps
to get you moving towards the perfectly beautiful nursery
you imagine for your new addition!

1 ...with style and safety in mind, choose a crib!
There are many wonderful options in cribs...classic, contemporary, fancy or simple. Many cribs can convert to a toddler bed, and some even convert to a full size bed. If you plan on having more than one child, a safe, sturdy crib is an investment that you can pass down. Visit cpsc.org for crib safety regulations.

2 ...Choose a color palette.
There are many ways to choose a color palette for your nursery. You can start with an "inspiration piece" like a painting or a rug. Perhaps you have a quilt you love that you want to incorporate into baby's room. Maybe a particular fabric covered chair has caught your fancy! Not sure which way to go? Over the course of a week, use Pinterest and pin nurseries that you adore. At the end of a week, go back and review your pins. You will likely find that you lean in the direction of a theme or color. Remember—You can create a nursery theme around anything you love!

3 ...With your color palette in mind and your crib purchased, choose your crib bedding and accessories.
You can buy a set or create your own set. Do your research on bumper pads and decide which pieces that you want. Fluffy or lofty bedding can be dangerous, so don't waste money on a set that has pieces that you won't use. Often, it's much more cost effective to buy pieces separately! Do you want the crib and bedding to be the focal point? Buy a decorative crib skirt! If you have chosen a gorgeous painting or rug and want the bedding to compliment but not overpower then AB Lifestyles offers a great variety of solid color crib skirts, with matching valances and drapes. Since paint colors are easy to match, we recommend choosing bedding first.

4 ...look towards the other "big" purchases that you will make.
You will want a comfy chair and a changing station. If your floors are hardwood, a rug purchase is likely in your future. You will need some storage for toys and clothes. As you make these purchases keep safety in mind... your precious little sleepy infant will be an inquisitive toddler before you can blink and will be crawling, pulling up and walking, and getting into everything!

5 ... Accessorize and ENJOY!!!
Your nursery, like your baby, will be one of a kind. It should be a happy but calming, welcoming place to create wonderful memories of your precious little one's first home. Enjoy the journey of getting ready for your new arrival!