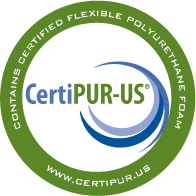 **Sorry - Not available to be shipped outside the 48 Continental United States.
We process our orders every business day and strive to ship stock items by the following business day. We request a 5-7 business day production time for all mattress topper purchases at this time. Please inquire by phoning: 1-800-825-4533 or emailing: customersupport@ablifestyles.net
Sometimes you want a little extra softness for your Airstream mattress, but don't want to go to the expense of replacing it! We teamed up with another American company to bring you a high quality Mattress TOPPER custom cut to specifically fit the mattress sizes found in Airstreams!! If your Airstream mattress needs some extra padding to give you a better nights rest, consider purchasing this custom made Memory Foam mattress topper!
This Visco Memory Foam Mattress topper is 2 inches thick. It has rounded corners to match the corners on your Airstream mattress. Visco Memory foam was developed in 1972 by NASA. It is now routinely used in higher end mattresses. Visco memory foam is made of polyurethane and is hypoallergenic as well as dust resistant. It offers a more comfortable nights rest because it conforms to the shape and heat of the person lying on it. For this reason, there are no pressure points on the body.
Campers and RVs often come with a mattress that leaves much to be desired! Because replacing the mattress is often cost-prohibitive, we are pleased to offer Mattress toppers to give you added comfort at a fraction of the price of replacing a mattress!
Have a question or don't see the size you were looking for? As always, we're happy to assist! And, we can give you a reasonable quote on a custom size if you have a special size request!