Minnesota's North Shore
Minnesota boasts 150 miles of breathtaking shoreline between Duluth and the Canadian border. We stayed in Silver Bay and visited as many areas up and down the coast as we could! Rt. 61 runs along Lake Superior and is lined with beautiful state parks that contain views of the Big Lake, easy/moderate/hard hiking trails, rivers, waterfalls, small lakes, camping, lodging, and more. If you like the outdoors, you are sure to love this area!
Iona's Beach is truly impressive with it's pink rocks! The nearby 30' cliff of pink rhyolite and felsite bedrock are the source of the stones that make up this beach. This beach is gorgeous and a place you should definitely visit!
Black Beach is just down the road from the campground we stayed at. When we saw it we thought we were in Hawaii, it just seems so out of place! We knew we wanted to visit before arriving, but what we didn't know was how it got there. So after some research we learned it's not a natural occurrence…it's the result of taconite tailings that a mining company discharged into the lake for 25 years. After fishermen complained about the polluted water the EPA took the company to court in 1973. They won out in a landmark case which established regulations for industrial pollution.
Over the years the tiny pieces of this mineral mixed with the sand to create this mysterious yet majestic beach. Although the long-term impact of the taconite tailings is still debated, the presence is here to stay.
You may be wondering why we had to ruin such a unique place by telling you how it came to be. If that's the case, sorry to disappoint you!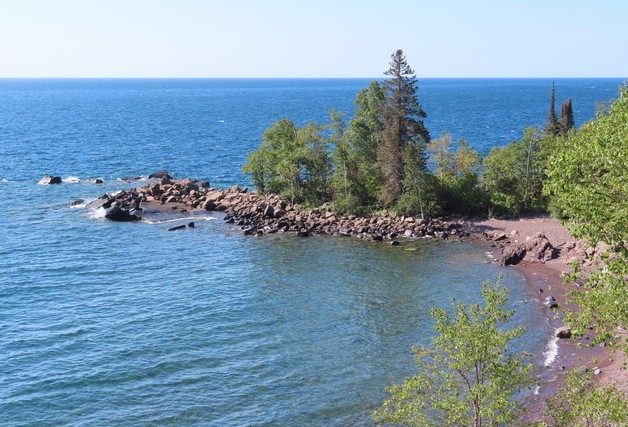 We climbed up and walked across some rocks at the end of Black Beach. When we came to the end we were delighted to see this hidden beach with more of a grayish color sand and larger pink rocks. It's hard to reach as you would have to go down a steep cliff, through some very thick woods with no trail, or by boat. However, we think this beach is a gem!
Here is a picture of Split Rock Lighthouse. It was so gorgeous to see it on this cliff overlooking the water!
The Gunflint Trail Scenic Byway is supposed to be a good area for spotting moose. So one day we drove the entire Gunflint Trail (114 miles) and took 3 short hikes along the way in hopes of seeing one. We had no success, but it was still a great day.
Below are some of our favorite waterfalls on the North Shore. The second image is of High Falls. It is Minnesota's tallest waterfall at 120 feet. Minnesota is to the left and Canada is to the right of the Pigeon River.