HELLO, HELLO, HELLO everyone,
We were busy this Fall heading back East after leaving Alamosa. Then we spent some time in Richmond, VA taking care of business and doing a bit of visiting. Then we continued our way south and visited Charlotte, NC as we slowly made our way toward Florida for the winter. I'm going to back up to last summer...

We spent July and August in Alamosa, CO. It's located in the San Luis Valley bounded by the San Juan Mountains to the west and the Sand de Cristo Mountains to the east. We visited many beautiful towns and landmarks, and want to share a few of them with you!
The San Luis Valley is located in the south-central portion of the state and is the largest alpine valley on earth capable of agriculture. Not to mention one of the highest valleys at 7600 feet. The arid warm days and cool nights are the perfect growing environment for producing vegetables, especially potatoes. Cattle empires were abundant in the late 1800's, but today cattle ranches and farms are much smaller. However, they are still a sight to see!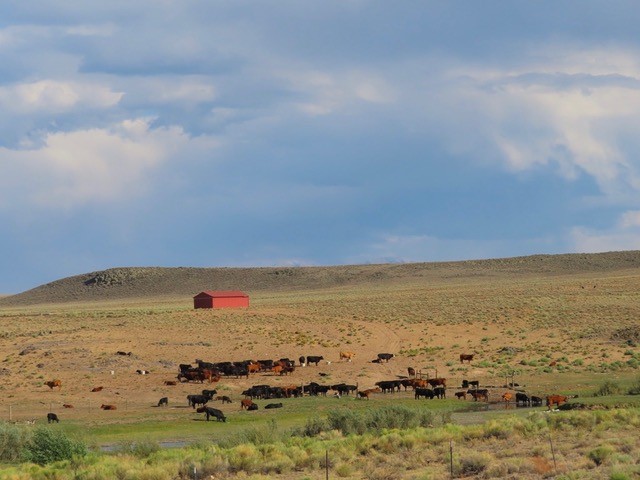 We went on many hiking adventures! Here I am, looking down on our destination: Red Lake. We also hiked in Penitente Canyon where there are some unusual rock formations. Look at these unusual hole in the rocks!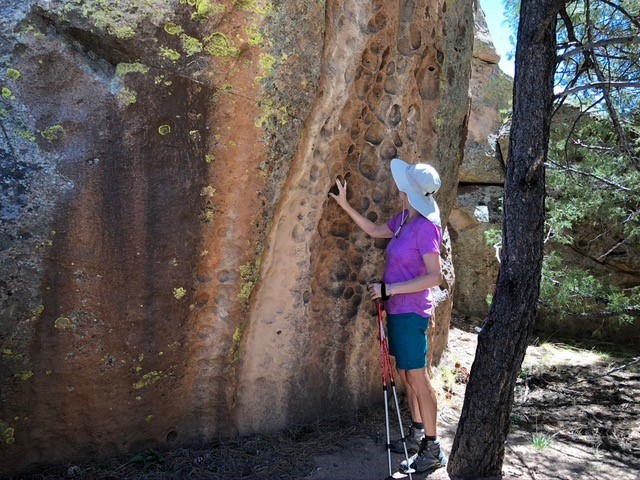 I'm going to end with our hike to Star Dune in Great Sand Dunes National Park. I really wanted to hike to Star Dune, the tallest sand dune in North America. You don't just hike up that dune though. It's an 8 mile hike and you have to go around part of the dune field then up and over many dunes before you reach it. And it's very hard hiking in the soft sand! You really have to watch the forecast to be sure there are no thunder storms in the area since you do not want to get caught on the dunes in a storm! Our problem was that by the time my hiking legs felt ready for this adventure every afternoon had a chance of storms and it didn't look as though we would get to attempt it. But on the day before we left all conditions were looking good so at 3pm we set out for Star Dune. By that time of day the sand began cooling down. Our goal was to make it back by 10:00pm. We knew we'd need headlamps for the last leg of our journey. Below are some of the many pictures we took along the way.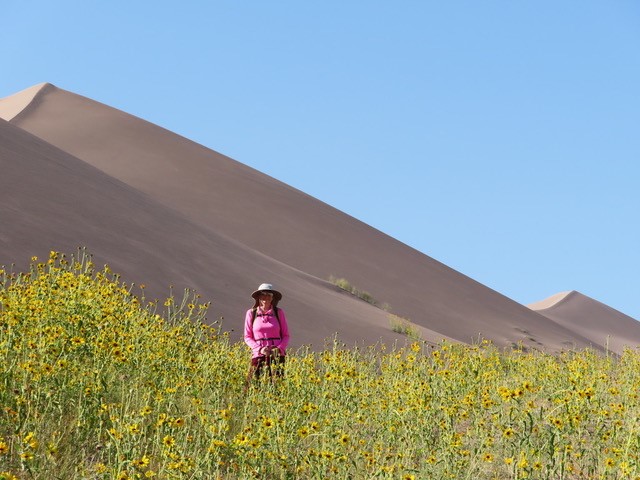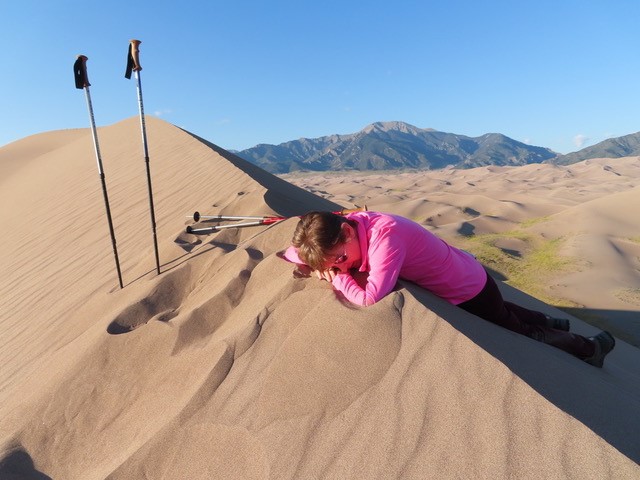 The hike was long, but I made it!!! I seriously couldn't wait to get to the ridge so I could rest. I didn't even care about the sand fleas, big black bugs or the Ord's kangaroo rats that live their entire lives in the dune fields. Dale laughs at this picture, but I remember how good it felt.

We did have to use headlamps the last couple of miles. There was no cell service, but Dale loaded our route on his phone before we left. If you do that, you do not need cell service to follow it. Also, I don't know if I mentioned there are no trails anywhere on the dunes so no trail markers to go by either. It is very easy to get lost on the dunes in the daylight or the dark. I'm sure many people have spent the night out there that hadn't planned to!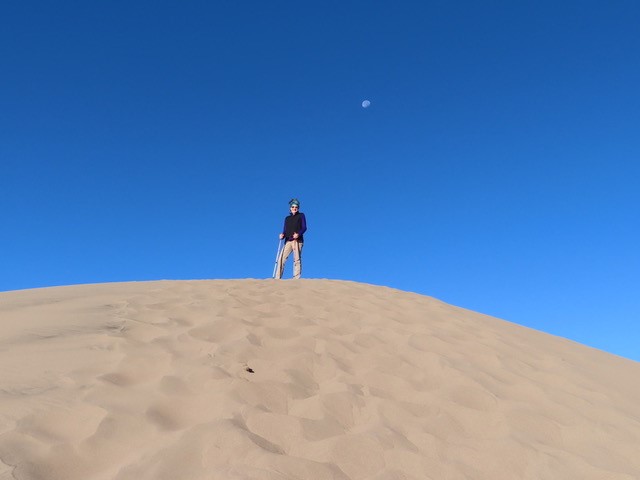 Now I can check climbing the tallest dune in North America off of my list!
Until next time,
- Dale & Debbie